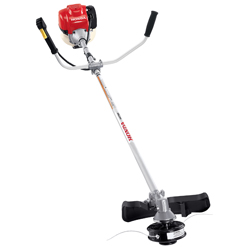 2016 Update
This brushcutter is no longer being carried by Amazon and might be discontinued altogether.
The Skinny
Model – HHT35SUKAT

Engine – 4 Stroke
Price – ~400
Full Review
Honda reliability is world renowned in the automobile industry as well as in the world of household and landscaping tools. Offering a wide variety of tools for around the house and yard, Honda ingenuity means dependability and flexibility while remaining affordable.
Under examination today is Honda's HHT35SUKAT 4-cycle String Trimmer/Brushcutter. It boasts a 35cc GX35 mini 4-cycle engine, offering excellent torque for its size and nearly unbeatable fuel efficiency compared to a 2-cycle engine. One of the most important considerations to have in mind when buying a trimmer of this type is the noise level, and this model does not disappoint; it's not only surprisingly quiet, but also exceedingly easy to start. Unlike other trimmers of its kind, the Honda runs on simple gasoline, meaning that it doesn't require its operator to mix gasoline and oil. This effectively eliminates one of the primary frustrations in owning this type of tool.
Offering a cutting width of up to 17″, this is one versatile tool. In addition, its straight shaft is strong yet flexible, meaning that it's highly shock absorbent even in the most demanding landscapes. What this means for the operator is that he/she won't tire out as quickly while trying to hold the unit steady. Operators concerned with visibility will appreciate the newly designed deflector, meaning that you'll be able to see what you're doing and what you're cutting at all times. For the sake of comfort, a double-strap shoulder harness comes standard, along with a pair of safety glasses.
For some, the weight of a string trimmer or brushcutter may be a primary concern, and this is one area where the Honda falls somewhat short. Some users have reported that the unit is on the heavier side. Other users have reported that the harness is more of a hassle than it's worth, adding that it's not uncommon for the harness to become uncomfortably hot on a bright summer day.
Another complaint centered on the assembly instructions, which some claim are difficult to follow, on account of the unit having been constructed with several similar-looking parts.
In terms of price, interested parties can expect to pay between $390 and $420 for the unit. This is arguably at the higher end of the price continuum for tools of this kind, though the price is to be expected with a tool of this quality. At this price point, you get a highly versatile trimmer that's capable of switching back and forth between trimming grass and weeds and much thicker brush, such as small trees.
Though constructed with legendary Honda reliability, it's backed by a limited 2-year residential warranty and a 1-year commercial warranty, which means that you've got peace of mind.
Though some users complain that it may have been slightly over-engineered by Honda, very few have disputed the build quality of what you get in the box. This really is a top-of-the-line tool, and likely the last string trimmer you'll have to buy for many years to come.