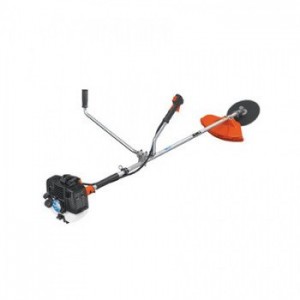 For most people, keeping a neat and healthy lawn is just one more part of home ownership, and especially suburban home ownership. In fact, it can grow to be a form of outright competition with one's neighbor – whose lawn is the greenest, the lushest, the most free of bush, leaves, and other debris? Indeed, some might say that the quest for the picture-perfect lawn is the closest equivalent modern man has to sallying forth for the Holy Grail… and for those people, a well-stocked garage full of top-flight lawn care tools are the swords and shields of the new millennium. If you ever run into such a person, it's a good bet that they'll have their own. Read on to find out why.
THE PROS
With the plethora of mini-jobs that make up the entirety of a day's worth of yard work, the tools used need to be up to the challenge. With every intention of making the pun, second-rate equipment just won't cut it. Happily, the Tanaka TBC-430PF Brush-Cutter, while not without its own set of flaws, is far from being a second-rate piece of equipment. In fact, many parts, such as the engine, are rated as commercial-grade components in their own right. Continuing in this vein, a generous 33.8 ounce capacity fuel tank drives a 2.2 horsepower, 40cc engine, ensuring that the Tanaka TBC-430PF Brush-Cutter can hang tough until the job gets done, whether that means trimming around the rose beds or slicing through dense brush. Power transfer is accomplished in buttery-smooth fashion, thanks to this machine's stainless steel drive shaft; its stringent and superbly integrated environmental build focus helps as well by promoting fuel efficiency and the like. In addition, dual handles provide a stable and safe handling / operating experience for the user. In other words, the Tanaka TBC-430PF Brush-Cutter provides power and functionality in a svelte, well thought out, environmentally conscious package, which is not something every company in this niche, let alone every piece of machinery created by them, is able to boast of. Of course, even the best of tools can break, which is why prospective customers will be pleased to learn of the Tanaka corporation's ample warranty on this product – two years and seven years are the commercial and residential thresholds, respectively.
THE CONS
As great a tool as the Tanaka TBC-430PF Brush-Cutter can be, it isn't immune to imperfection. For starters, the weight is pushing twenty pounds (18.6 lbs.), and with no harness included, this machine can get a little tedious to carry around on a long, hot day. Speaking of which, most Tanaka products have some kind of anti-vibration feature, but it seems to be conspicuously absent in this particular device. Whether this is truly an oversight in construction or simply a marketing error, it may be a source of confusion or even hesitation for some potential users, particularly the elderly.
It is also worth noting that while budgetary constraints are subjective and unique, meaning that price does not truly have a one size fits all place in either the pro or con category, the Tanaka TBC-430PF Brush-Cutter is rather expensive by most metrics. A price tag of nearly seven hundred dollars is why the matter of price is mentioned where and as it is. A bit of comparison shopping will yield lower prices for those who are willing to search them out, of course, but it would be unwise to expect any sort of drastic price-cut just because you looked in a few different places – this is a quality tool, and its price is a reflection of that fact. Lower quotes in terms of cost bottom out at around $530 USD, give or take a few dollars.
CONCLUSION
For millions of people, yard work can be anything and everything from catharsis to the bane of their existence, and the thing that separates one extreme from the other is usually the tools used to accomplish the task at hand. While many options exist in the world of consumer landscaping technology, the Tanaka TBC-430PF Brush-Cutter is a solid contender for the number-one spot in the general purpose category, and should definitely find its way into any serious lawn-jockey's arsenal. Simply put, if you're in the market, this machine ought to be on your list of considerations.