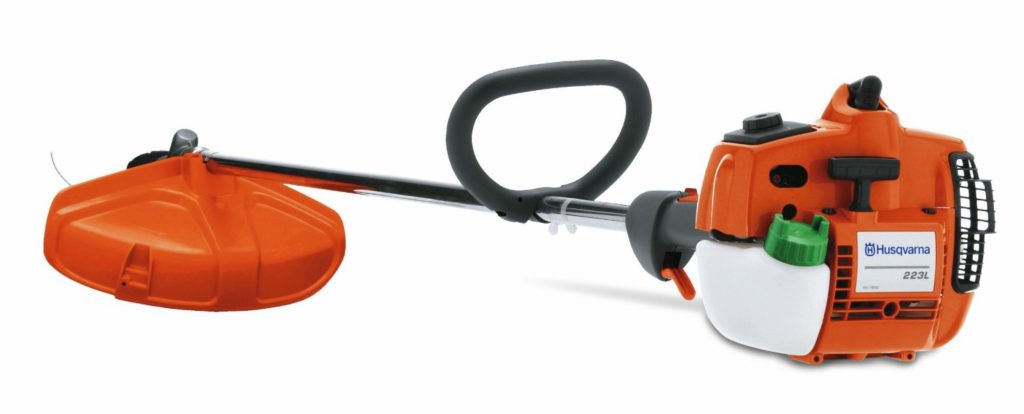 Introduction
Another day, another Husky to review at Brush Cutter Central.  Husqvarna is a Swedish company best known for their chainsaws.  Their equipment is mentioned in the same breath as Echo, Stihl, Toro, and Ryobi.  The 223L fits right into their product mix, but is it up to snuff as a brush cutter and weed eater?
That's what we aim to find out with this review of the 223L.  Here's our overall criteria on how to judge a brush cutter. It's a lot like the 223R, except for the loop handle.
Specs and Assembly
The engine displaces a healthy 24.5 cm³ making a health 1.01 HP. The two-stroke engine, requiring all of the usual maintenance that accompanies the fuel efficient two-stroke engine, including
100% pure gasoline, absolutely no ethanol. Ethanol gums up the carburetor and corrodes the fuel lines
The pure gasoline has to be mixed with the proper motor oil, or purchasing the manufacturer's pre-mixed fuel
Adding a fuel stabilizer like Sta-Bil will also help the overall longevity of the engine
The carburetor does need adjustment if it isn't running properly, especially at high altitude.
A straight shaft leads to the cutting head, and everything is handled by a "D" loop handle.
Start, Idle, and Usage
It starts very easy and it runs very easy.  Modern string trimmers are usually easy to start, ideally less than 5 pulls. That being said, I know a lot of us are used to older models that required a Hank Aaron swing to get going.  This unit has a nylon pulley system that can definitely break if you put too much oomph into your pull.
Some found the engine ran hot, in particular the exhaust stream was very hot.  It's important to wear protective clothing when using any power tool, and gas trimmers are no exception.  Eye, Ear, and skin protection are needed at the very least.
Some found it was very loud, another start vibration was very hard for the unit.  The waste debris was also an issue for some users.  The shield did not catch as much as many would have liked.
In terms of ergonomics users were split on whether or not it was a good fit for everybody and tall people didn't like it at all.  One of the issues is that it does not have an obvious place to hook in an aftermarket harness. (The unit does not come with a strap or harness)
When it comes to starting the unit the assembly sometimes breaks. It is important to remind ourselves with these modern units there's no need to keep pulling and pulling pulling heavily in order to get the unit to work
Reloading the bump head? Most found that the line was easy to replace.
Concerns and Longevity
As mentioned above the nylon starter pulley is prone to break.
Also the warranty is limited to only two years and for the carburetor it is only 30 days.
After researching hundreds of reviews, many users have gotten more than 3 years out of this model.  Assuming that they did what was necessary to maintain these models, it's likely that a new unit will have the same life.
Conclusion
With an easy hand, and being mindful of the heat generated by this model, we recommend it.