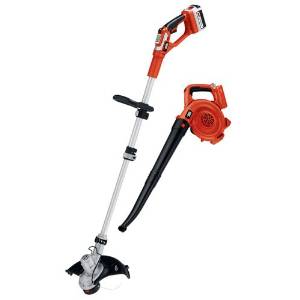 Be sure to check out our guide to Weed Eaters.
The Black and Decker LCC150 has a lithium ion battery that gives you a maximum of 40 volts. The battery has a longer lifespan and provides you with high quality service for a very long period of time.
It features a charge indicator that enables you to know the capacity of the battery when using it. You also get a lithium battery pack providing you with current of 2.0 amperes per hour.
The battery pack gives you 30% more run time for every battery pack so as to ensure that you don't run out of power until you have fully completed your task.
The system that provides you with a nominal Voltage of 40 v Max to 36 v can also work with other lithium tools that give you 40 v Max and 36v.
Basically, the unit has about two tools in one unit. The trimmer can easily undergo conversion into an edger, that is able to cut along driveways and sidewalks to give you a manicured, clean appearance.
The string trimmer, is able to get the job done faster because of the PowerDrive Transmission, that provides you with more cutting power. It is also worth noting down that it has a cutting swath of about 13 inches.
The PowerCommand dial gives you the option of choosing between maximum power, that is able to cut through thick weeds and maximum runtime, to save power and increase battery life.
The Black and Decker LCC150 , has an Automatic Feed Spool, that ensures you get minimal bumping and also prevents constant breaks as you work. You don't have to stop so that you can adjust the spool. This ensures that you take very little time to complete your work.
It has a powerful and light sweeper to easily clear any debris that may be present in hard surfaces like decks, patios, garages, walks and also drives. The unit is light in weight and only weighs about 4.7 pounds . This makes it quick and easy for you to blow debris off and also ensures that your operation is quiet because of the presence of a low noise design.
The sweeper also has Power Command controls that give you the option of either using maximum power or maximum runtime, that increases your battery life.
It also helps in reducing your carbon footprint because it doesn't release any emissions in your yard.
Features Of The Product
Before you purchase any product, it is very important for you to make sure you fully understand its features. Below are the features of this product .
– It has a sweeper and a 13 inch trimmer.
– The sweeper is powerful and light so as to clear debris easily from any hard surfaces.
– It has one lithium ion battery offering 40V Max and an extended runtime of about 2.0 amperes per hour.
– The trimmer has the ability to easily convert into an edger, so as to easily cut along driveways and sidewalks.
– The nominal voltage ranges between 40v Max to 36v, and the system is capable of working with other 40v Max and 36v lithium tools.
Clear Details Of The Product
Below are some of the notable details of this product.
– It is manufactured by Black and Decker Outdoor
– Its shipping weight is about 13.6 pounds.
– The dimensions of the product is 13 inches by 43.3 inches by 7 inches.
Conclusion
The Black and Decker LCC150 , provides you with quick, efficient and high quality service to ensure that you always complete your task on time.