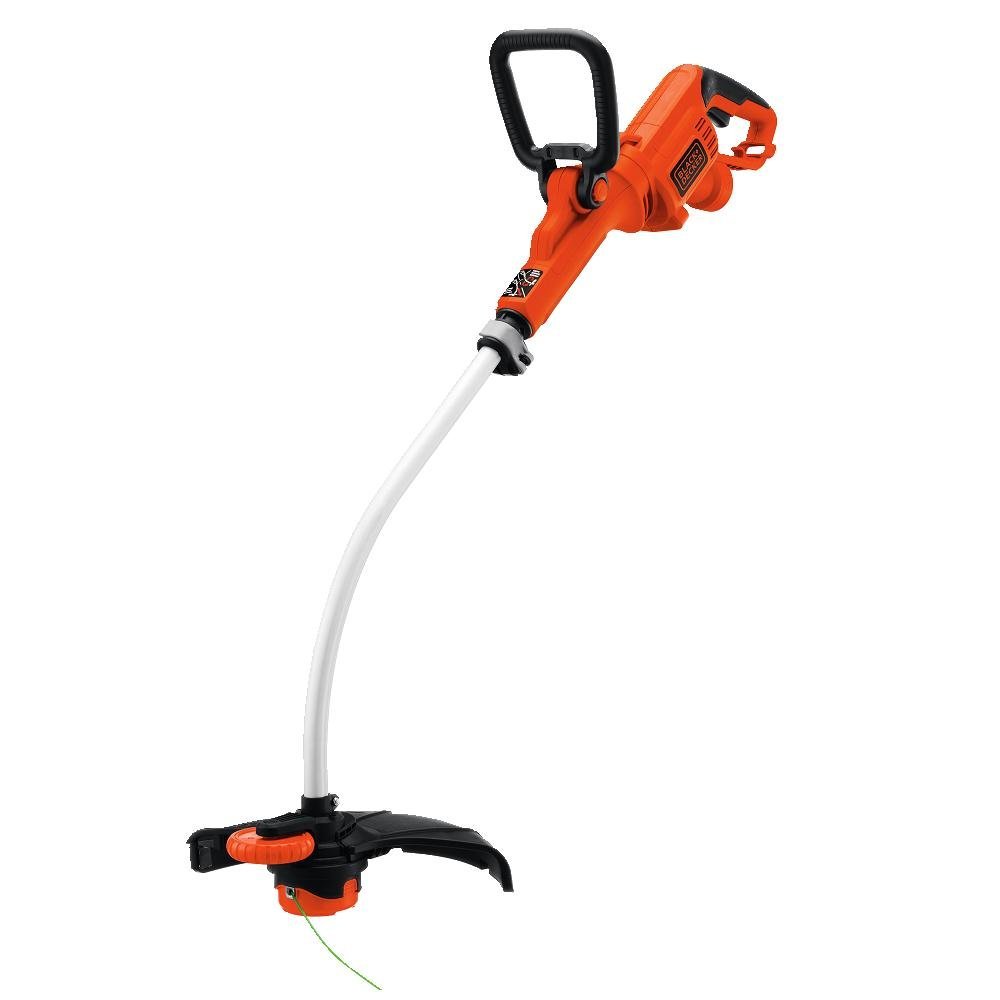 A Review of the Black and Decker GH3000
The Black and Decker GH3000 7.5 Amp 14-inch trimmer and edger is a convenient electric string trimmer that you can use in your yard right now. This can help you to take on the hardest weeds, grass and other growths in your yard with ease.  If you want to get an idea of what we look for in a corded weed eater, check out our guidelines.
Physical Features
This is about 6.9 pounds in weight and carries most of its weight on the top part where you would handle it. The handle is a D-loop option with a trigger handle on the back to help you move it around with ease. This does not come with a padded material on the handle although it is smooth and easy to hold onto. A non padded handle is fine for this application because it's not designed for very long sessions.
This does not come with a harness. Fortunately, the handling system makes it so it will be easier for you to carry it around wherever you might go. It will not vibrate much nor will it be far too difficult for you to carry around with you wherever you might go when using it.
How It Feels When Using It
The GH3000 will not vibrate as much as a bigger electric weed eater or a gas powered weed eater. This is thanks to how it works with an electric cord. Also, it does not generate far too much noise and it will not create any exhaust. The model can get warm when you use it for a while but not to the point where it will wear out and weaken.
Usage Points
The GH3000 works with an automatic line feed. The Feed Spool AFS works to get the line to work quickly and to keep it from wearing out all that quickly. This makes for a simple setup that is easy to follow. It does not require any bumping. It addition, the line will not get easily tangled.
A guard is also used around the line. This is to keep the main mechanism from getting caught up in different things as well as stopping debris from hitting you.
The cutting path is wide and powerful enough to get through many tight spots. It can cut through weeds and grass quite well. It takes a while to get through some thicker or wetter spots though.
Powering It Up
This electric model is easy to start up with a simple switch. It also works with an electric cord, thus meaning that it will not require a battery.
Although this corded trimmer can work for a while so long as it has enough electric power going into it, this will be rather difficult to use if you don't have a proper extension cord. You will need a good cord that can extend to your location to provide you with something that is easy to use.
Here's the guys at Tools in Action with their take
Long Term Care
The long term care points of this Black and Decker trimmer especially deserve to be seen. Black and Decker offers a two-year limited warranty on this product. This works for regular home use only.
Also, the product can be easily fixed by most professionals. Black and Decker has various technicians around the country that can repair this as needed so you can keep your model running well in the event that it breaks down for whatever reason one has.
Overall
This is one of the nicer corded weed eaters available.