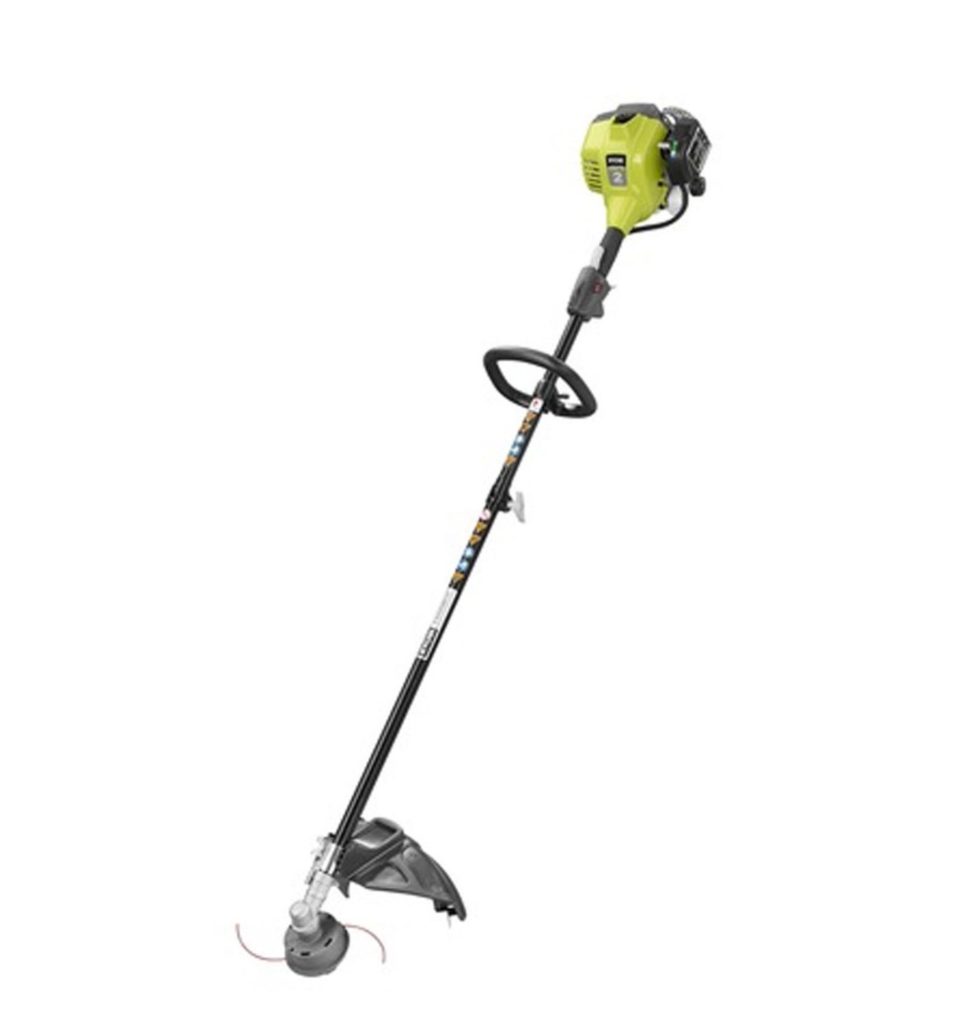 Be sure to check out our guide to weed eaters.
The Ryobi RY253SS is reliable 2-cycle gas trimmer. This gas trimmer comes with several features that give users a satisfying trimming experience.
Features
The Ryobi RY253SS fgas trimmer comes with several features that make it a reliable weed trimmer. Some of the features include the following:
The Zip start carburetor allows easy starting of the device.
It comes with a two cycle engine.  As two cycles go, this one will probably need carburetor adjustment to make sure that it doesn't run rich or lean.  This of course means also using ethanol free fuel, and mixing the fuel with motor oil.
It features the Ryobi Universal Brand Fit attachments that allow the trimmer to accept universal fit attachments.
It comes with a Reel-Easy String Head that allows easy head string reload. Just thread the string and twist the head and then you are ready again to resume trimming.
Design
The Ryobi RY253SS comes in a sturdy design. It weighs around 15 pounds and it feels fairly heavy when used. This trimmer has a straight shaft and the weights are equally distributed from the engine to the cutting head. It comes with a plastic, round loop handle that is highly adjustable, giving comfort to those who will use it. The handle is not padded.  This trimmer does not have a harness or anti-vibration function. When trimming, you can feel the vibration in your hands but it is pretty manageable. Compared to other trimmers, the sound level of this trimmer is also acceptable by the ears without any protection, but we recommend it anyway.
Performance
The Ryobi RY253SS gas trimmer is fuel-efficient. It also comes with a zip start that is designed for an easy starting and restarting. It is reliable and strong enough to cut through thick weeds and ugly vegetation. It has a 17-inch cutting width and a 25-feet line feed capacity.
It comes with bump head feed that allows you to extend more string easily with just a simple thump on the ground. In this gas trimmer, rethreading is pretty simple and easy. The line does not get tangled and you can expect an efficient weed trimming session.
Warranty
This trimming device is offered with a three-year warranty for the labor and parts as well as the drive shaft. Compared to the average trimmers, this warranty is better. For troubleshooting help, online manuals are readily available in their website. For further concerns, you can also call or email the manufacturer. Also, local service centers are willing to assist you with your weed trimming concerns especially when it comes to repair.   The unit reviews fairly well, but not necessarily in the top tier.
Conclusion
The Ryobi RY253SS gas trimmer is a durable trimmer that could last for years and it really provides great features. Aside from being heavy, another drawback of this trimmer is the lack of anti-vibration system. But overall, this gas trimmer really gives an impressive performance. It is easy enough to use and reliable enough to clear away unwanted weeds and vegetation.