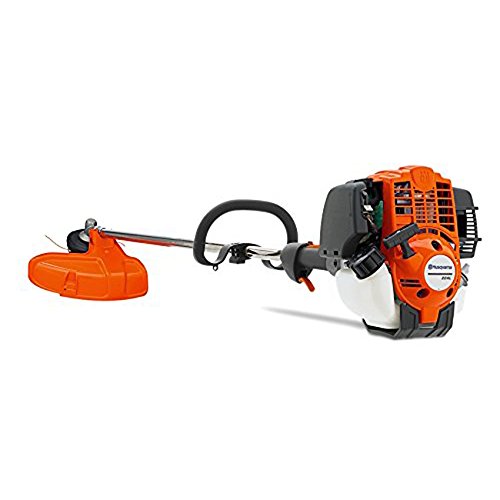 Introduction
Here at Brush Cutter Central, we love 4 Stroke engines.  We love not mixing fuel oil and not smelling like 2 stroke gas when we come home from a hard day.  4 Strokes aren't perfect, but when you have a lot of work to do, they really do shine.  For more on the difference between a 4 stroke and 2 stroke, check out our main guide.
The Husqvarna 224L is our absolute favorite
This is a four-cylinder motor with a straight shaft that is one piece motor has 25 cm³ of displacement.  The body is made in America of Swedish design.  The real benefit here is the motor is Japanese, Honda to be exact.  We'll talk about that later.
Build Quality – There is a hard plastic bottom that protects the gas tank from damage and dirt.  Instead of a cheap plastic housing around the motor, you get steel. And this is more of a commercial minded trimmer as the safety, on/off, and throttle are built to be more modular than a consumer model.   The thing looks like a shaft attached to a motor, as opposed to a completely plastic molded black box that no one is going to touch.   Subtle differences in the design tell you what the machine was meant for.   Not too many folks geek out about those sort of design details, but most folks don't have websites dedicated to brush cutters.
Attachment Ready – I've heard mixed things on what you can bolt on to this trimmer.  Most of it not good.  Sometimes the universal attachments are not so universal.  The 128LD takes attachments, but the plastic coupler wears out after a few years.
When you get the box from Amazon, make sure that the packaging isn't damaged.  Always do a smell test, because sometimes people put gas in these things, don't like em, and send em back.  You want a virgin unit.   Also check to see if you have all the parts, including the manual. (Although most manuals are unintelligible or full of so much information that the heft makes you not want to read it).
Assembly – Most users found the 224L easy to assemble.  After assembly, two minor problems crept up for some users.  Oil leaking for some, and others couldn't get is started.  Believe me, this is not the norm, and don't let the nervous Nellies dissuade you.
Operations
Starting – When it comes to starting, mostly found that the model was very easy to start. A modern and quality string trimmer is typically easy to start.
Idling – Most users found that the unit could hold in idle.  While running in idle, there is not much in terms of vibration.  Especially not when compared to a typical 2 stroke.
Power – In terms of power the unit did not seem to bog down. With a 2-Stroke Engine, you usually need to get the head up to a high rpm for cutting.  The 4 stroke engine has most of its power just above idle.  It's rare that you need to go full bore to do normal work.   Sometimes you'll notice that with a 4 Cycle, the engine performance is not that good unless it has work to do.  Basically a 4 stroke can be cantankerous when you've got the throttle wide open, but it's not doing any work.  So the key is to crank it up only when it's time to get serious.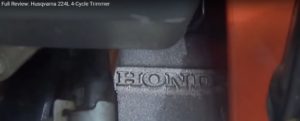 This is a close up shot of the Honda Engine.  It's a GX 25, and it's glorious.  This power plant makes your life way easier.
Many users were able to handle weeds and brush.  Area wise users handled lots as small as a half-acre to a full acre. It could even cut saplings that were 3/8 of an inch thick.
Time – A lot of users were able to get a couple hours of use out on one tank.   And longevity wise, some of these 224L' were going strong after four seasons.
Over Heating? –  When it came to working on a hot day only a few people found that the unit overheated.  Overall this is not a unit known for overheating.
Noise – In terms of noise most thought was quiet when compared to a two-stroke engine.
Vibration – Vibration it was not considered to be very bad.
Debris – Some users thought that the debris shield could be better.
Exhaust – When it comes to the exhaust if not handled correctly it will hit your elbow.
Height Issues – For short users this was a good unit but for tall users they had to bend over to use it.
Weight of the Unit – Many users thought the unit was heavy, only a handful thought it was light. With that in mind, the unit did not come with a harness.
Here's a full video review hitting a lot of the same points
Overall this is probably one of the best 4 stroke trimmers.