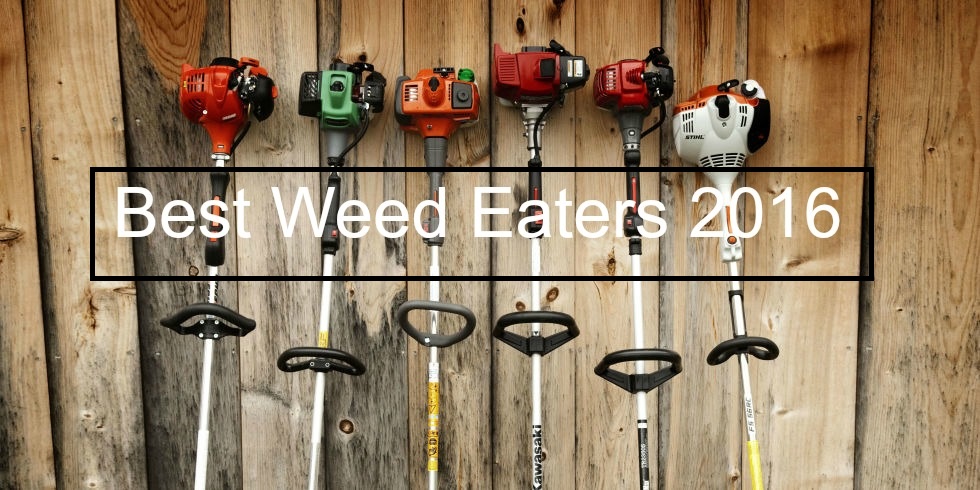 Best Weed Eaters 2016

Weed Eaters are similar to Brush cutters.  Instead of taking down brush, the weed whacker takes down weeds that cannot be reached by lawn mower.  Weeds are usually by the fence, or in a garden..some persnickety place.  In addition, most weed eaters can be used as landscape edgers.  Wikipedia has good run down on the basic features of a trimmer.
I know your time is valuable, so our favorites are
Our favorites in the categories are
Best 2 Stroke- Tanaka TCG27EBSP
Best 4 Stroke - Husqvarna 224L
Best Cordless - CORE GasLess Power CGT400
Best Corded/Light Duty
Black and Decker GH900
Introduction
Generally these are simple machines. Motor + Shaft + Cutting Head.  The only thing that makes these more complicated than a good brush cutter, is the cutting head.  The line has to advance, cut, not get wound up during use, and be easy to rethread.  More moving parts, more things that can go wrong.   Husky and Tanaka make great brush cutters, but they don't always make good string trimmers and weed eaters.
The typical weed eater has a
2 stroke engine
A straight shaft
A bump head that lets out the line with a bump of the head on the ground
2 Stroke engines are the norm.  2 stroke engines are different than the 4 stroke engine in your car.  The 2 stroke engine requires that you mix the fuel with the motor oil.  This is typically a 50:1 ratio.   Usually the typical home owner only needs to do this once a season.  Gas is purchased at an ethanol free gas station, which you can find here http://www.pure-gas.org/.  Once the gas is in the canister, a good fuel stabilizer should be added. http://www.goldeagle.com/product/sta-bil-fuel-stabilizer
In addition to fuel mixing, in most modern 2 stroke engines for lawn equipment, you need 100% pure gasoline.  This never used to be an issue, but most gasoline is mixed with up to 10% ethanol.   Ethanol is hygroscopic, which means over time it attracts water.  When the ethanol in your weed eater does this, a few things happen.
Your carburetor is gummed up. (requiring that you tear down the engine and clean it)
Your fuel lines rot (requiring a replacing your fuel lines)
If you do not have the small engine repair tools, this means heading to your local lawn shop or big box hardware store and paying an expert to fix it.  The repairs for this can be 25-50% of your purchase price. These things are entirely preventable, but it takes diligence.
This is a lot of additional work for a weed eater.
Starting
Starting a typical weed eater happens one of two ways.  First the pump is primed.  The prime bulb uses suction to add fuel to the carburetor so that when the motor cranks there's fuel and air so that combustion can happen.
Pulley System that requires the user to pull 2-3 times. These have vastly improved over the systems from the 80's.  No pulling your back out just to clean up the front lawn.
Starter systems that use power tools
Starting a weed eater with it on the ground and the cutting head away from anything that it could harm is how the pros do it.
Now that you have the machine going, you should be ready to cut.
We recommend ear and eye protection, as well as loose fitting long sleeve clothes.  These will protect you from the noise of the engine, as well as any debris that kicks up from using the machine.  And believe us, things can get bad if you don't have protection.
4 Stroke Weed Eaters
4 Stroke powered weed eaters use a 4 stroke engine.  There usually is not much difference in power, there are other differences
4 Strokes are more environmentally friendly than 2 Strokes.
The exhaust fumes are not as bad
4 Strokes are generally quieter than 2 Strokes
4 strokes typically weigh more than two strokes
Oil does not have to be mixed with the fuel, unlike a 2 stroke.
Oil resides in a pan, it is not recommended to use a 4 stroke trimmer as an edger. A 2 stroke has no problem with this task.
Starting and running a 4 Stroke is the same as a 2 stroke.
Cordless and Corded Weed Eaters

Unlike their fossil fuel powered brethren, both corded and cordless String Trimmers use electricity to do the work.  The corded variety have long cords that plug in to nearby outlets.  Cordless String Trimmers use rechargeable batteries to do the job.  Sometimes the batteries are integrated into the unit, but better cordless string trimmers have modules.  This way you can swap in a new battery when one runs out of charge.
Cordless Weed Eaters vs Gas Weed Eaters
Can be the same amount of power
At the same level of power, electric weighs more
Corded have limited range.
Cordless have limited run times.
May be more upfront cost when buying if the batteries are not included.
Have to wait for recharge.
No gasoline or engine issues.
Starts Immediately at the push of a button
For home duty, a cordless string trimmer should be under your consideration.  In the last decade, with electric cars becoming ubiquitous, advanced battery technology has trickled down to all sorts of power tools.  With the typical 40V of power, and 4.0 ampere/hours of time, the good cordless trimmer is as powerful as the equivalent gas trimmer, 2 or 4 stroke.  Depending on the amount of vegetation, for a typical home owner on a 1/4 acre lot, a good quality cordless weed eater will handle the front and back yard in 30-40 minutes.
Ergonomics
Using a weed eater can be somewhat challenging.
Some things you want to take note of when you read reviews.
Is it heavy? (This is usually an issue with the cordless weed eaters that are capable of handling a home lawn)
If it is heavy, does it come with a harness?
Is the weight distributed well? Is it balanced? (This can affect both gas and electric)
What kind of handle does it have? Is the handled padded?
How is the vibration? (Primarily an issue for Gas Weed Eaters)
How is the noise? (Also an issue for Gas Weed Eaters)
Where does it exhaust? Is it hot?  Are the fumes particularly noxious? (A Gas weed eater issue)
Performance
Things that we look for
Does the tool do the job you need it to do?
Is it strong enough to cut what you need to cut?
Does it last long enough to get through a session?
Does it have an automatic feed or a bump head feed?
Is the line sufficient to do the job, or do I need a larger gauge line?
Does it take a larger gauge line?
Is it easy to rethread?
Can I edge with the device?
When you need to re-trim your lawn, is it a pain to restart?
How long does it take to refuel or recharge?
After the job is done for the day, is it a hassle to store and maintain?
When the season is over, how hard is it to store and keep viable for the next season?
When parts wear out, need replacing or repair, how close and affordable is the repair shop?
What is the warranty? Short and limited, or does the company stand behind its product?
With that in mind
Our Favorite Gas powered 2 stroke  weed eater is the Tanaka TCG27EBSP.  The Full Review is Here.
We also liked the WeedEater w25SFK, the Husky 128LDX, the Troy Bilt – TB42, The Ryobi RY253SS and the Remington RM2520.
Our favorite 4 stroke weed eater is the Husqvarna 224L
But we didn't mind the Troy Bilt TB 575, the Poulan Pro PP 966774301, The Poulan Pro  PP428C, and the Troy Bilt TB 525.
Our favorite Cordless string trimmer is  the CORE GasLess CGT400. Our Review is here.
Honorable mentions to the Dewalt DCST990H1, LST400, and the Makita XRU02.
Our favorite corded light duty weed eater is the Black and Decker GH900.   Also look for the ST7700 and the GH3000
What is the best trimmer line?
Anyone who's done any yard work has likely used something called a trimmer, although some people decide to use wacky terms like weed eater, weed whackers and even weed e eater which I've heard come from the mouths of experienced yards folk. The official term is Trimmer, it's designed to trim grass where your mower can't get to and to edge out crisp lines into flower beds, walkways, tree rings as well as a myriad of other things like doing light hedging or clearing light weeds from a garden. The possibilities with the trimmer are endless and the only limit is the operators skill level.
There's two types of trimmers and a plethora of lines to choose from, the two types are gas and electric. Gas is more powerful, more mobile but louder, and weighs more as well. Electric is not as powerful which means you will have a lot of difficulty cutting heavier weeds that the gas trimmer can whizz through. Electric is also constricted to either its battery, or the length of the extension cord that it draws power from. Keep this in mind when it comes to trimmers, electric also has a limited amount of line that you can run on it, whereas with gas you can run almost any line providing you have a strong enough engine.
Trimmer line is extremely important, and choosing the correct line is not an easy task. There's many options out there, all claiming to be the best and to deliver durability, clean cuts and affordability. This can make things confusing, you may buy what you think is good line only to find that it breaks off easily, welds together, cuts poorly or grabs at vegetation. There's a lot of things to consider and by the end of this guide you will have a clear idea about the different types of lines as well as what lines are the best.
To start, there are four main types of trimmer line.
Rounded line is your standard line, it has a good durability to it and it is easy to find in just about any store that sells trimmers. The downside is because it's rounded the line doesn't cut the grass, it tears the grass which can leave an unsightly appearance where you cut. The thicker lines also have a tendency to break easily. This line is geared towards residential and commercial use.
Multi-sided (star, square, pentagon) line produces a cleaner cut and these lines slice through heavy weeds and thick grass but break off easily when they come in contact with objects such as fences, curbs, pavement and etc. This line is intended for a larger yard and thicker weeds, ideal for commercial use.
Serrated line produces a much cleaner cut, the line has teeth which means when the line comes in contact with vegetation it is like a knife, and cuts right through. It will also leave a much cleaner cut on regular grass, no tears. The downside being that the line can break easily when it comes into contact with objects and it can be hard to find in stores. This line is best for properties that have a lot of weeds and commercial use.
[img]http://www.drpower.com/productimages/image.axd/i.19660/a.1/w.1000/h.1000/cord,+blue,+175+mil,+80'+roll_l.jpg[/img]
Twisted line has a bit of an edge to it, it's not as prominent as serrated line but it's there and because of this edge it cuts clean and due to the twisting it's stronger and quieter than its round counterpart. This line is ideal for heavy, thick weeds as well as heavier commercial use. Although, because of the edge you can use it for residential, you just have to be careful around things such as siding and fence as you could cause damage.
Titanium line is in a league of its own, being relatively new on the market it is quickly becoming the choice for line. Titanium line is durable, won't break as easily when coming into contact with objects, creates a nice clean-cut as well as being suitable for heavy-duty jobs. The downsides being that it's usually more expensive and it's very easy to cause damage with the line, it can cause a lot of damage to siding, wooden fence, flower pots, trees and anything else that the line may hit.
Now that we know the main types of line, let's go into the next important thing that will determine what kind of work you can do with your line, that is diameter. Diameter is important because the smaller the diameter the less cutting power and durability you will have, but you will have more control and won't have to worry as much about damage. Whereas with a larger diameter you will have more cutting power, last longer but can cause more damage and you have less control.
We'll separate the diameters into three different categories.
Light duty (0.065 inches – 0.080 inches) – Residential, light weeds nothing heavy
Medium duty (0.065 inches – 0.105 inches) – Larger lawns, heavier weeds and light commercial work
Heavy duty (0.105 inches +) – Commercial work, industrial landscapes, thick weeds
So what is the best trimmer line? Well, as you can tell it depends on what type of work you plan to do, it can vary across the board depending on the work you're doing. However I've chosen three lines, that are suitable for a variety of work and able to do most jobs, are easy to spool, maintain, as well as the most durable and flexible while still providing good cutting power. All of these trimmer lines can be purchased through Amazon and only the Husqvarna Titanium force cannot be purchased at a department store. The other two can.
The first one is Stihl's Premium line,
Many people use Stihl's line. There's three main types, the Premium range which starts with a diameter at 0.065 inches, the commercial which starts at 0.095 inches and the Quiet line with diameters of 0.080 and 0.095 inches. The quiet line is perfect for residential areas where noise is a concern. All of Stihl's Premium lines are round lines, meaning you won't get the best cutting power but your line won't break very easily when it comes into contact with objects.
Since the line is made of nylon and nylon can dry out and become brittle, it is wise to soak this line in water overnight on a regular basis, that way you can maintain the durability and flexibility the line originally had despite the age. Their has even been claims of people bringing five-year old line that has been left out in the sun back to life with soaking. Another thing to watch out for is the line welding to the hub, this happens when either the line is poorly wound on the head, or you are cutting weeds that the line is not designed to cut and the friction heats the line to the point it welds. Make sure when you wind your line that it's tight, and if you are cutting heavier weeds make sure to move the trimmer back and forth instead of holding it in the same place, this creates airflow and can prevent the line from welding to the head. This line spools easily and comes out straight with few twists and kinks. It is best to store this line out of direct sunlight to keep the nylon flexible and durable, a shed, or an enclosed area will do fine. The line will cut through most weeds providing you have the right diameter for the job, you can do line edging for flower beds, curbs and sidewalks without having to constantly replenish the spool.
Stihls Premium round line is the best overall line used by professionals and consumers for the past twenty years, it's very versatile, easy to find and durable. You can find it here.
Next up is the Husqvarna Titanium Force
This line as suggested has titanium in it, causing a cleaner cut and lasting longer than your traditional nylon line. This line comes in a round shape, but because of the titanium the cut isn't compromised unlike traditional rounded lines. The great thing about this line is that because of the titanium it doesn't weld together as easily as traditional lines and you don't have to go through the process of soaking it into water to regain durability and flexibility. The line comes out straight and is easy to re-spool. However, the greatest thing about this line is the durability, it lasts more than twice as long as the nylon counterparts, there are reports of people doing big backyards with just one spool whereas with the nylon line it would take 3 or 4 spools. The only downside to this line is it's very easy to damage objects with, it will tear right through siding and cause significant damage to wooden and metal fences. Despite the line having titanium in it it's still best to store it out of direct sunlight in an enclosed area. The line is also more expensive and it comes in .080" , .095", .105" and .130". It's harder to find in your typical hardware store and you generally have to go to a Husqvarna dealer or order online here.
This is great line, arguably the best out there. Best bang for the buck by far, useful for both commercial and residential use just be careful around objects as this line can tear through things much quicker than traditional nylon line.
The last line I want to mention is the Echo Cross-Fire line. The cross fire meaning the line is shaped like a modified addition sign, it looks like this
Due to the eight sides of the line, this makes it far superior with cutting power only falling short to the serrated line which cuts great but has a poor durability to it. The echo line is made from nylon which means your line could weld together, although it is a relatively slim chance if the line is wound tightly and you move the trimmer when cutting heavy weeds to improve airflow. You still have to soak the line in water to rejuvenate its durability and flexibility, you should even do this with brand new line because you never know how long the line you bought has been sitting in the warehouse. The line is easy to spool into the trimmer and relatively inexpensive compared to the Stihl and Husqvarna lines. It comes in .065" , .080", .095", .105", .130" and .155". Another great part of this line is because of it weighing less than Stihl's line and the Titanium line you will have less noticeable burn marks if you ever let the line hit the ground, you will still burn the grass but it will be less noticeable than if you burned with Stihl's Premium line or Husqvarna's Titanium line. You should store this line out of direct sunlight and in an enclosed area to avoid the nylon becoming brittle from the sun. Many professionals and consumers use this line and love it, the only slight downside is if you can go through a lot of it you aren't very precise with the trimmer. You can buy it here.
These three are the best trimmer lines on the market right now and most often used by professionals and consumers alike. Trimmer line is extremely important, it can make the difference between a good and poor cut as well as an hour-long job turning into an hour and a half or even two-hour job if you have to re-spool all the time. There's plenty of options with trimmer line and it can get confusing deciding what to use. The three lines I suggested are the best overall lines for a variety of jobs. No more headaches with strings welding together or breaking apart with the lightest use, trimming isn't supposed to be a chore and with the three lines I suggested I guarantee you will learn to enjoy the trimmer and the unlimited potential the machine has. Happy trimming.