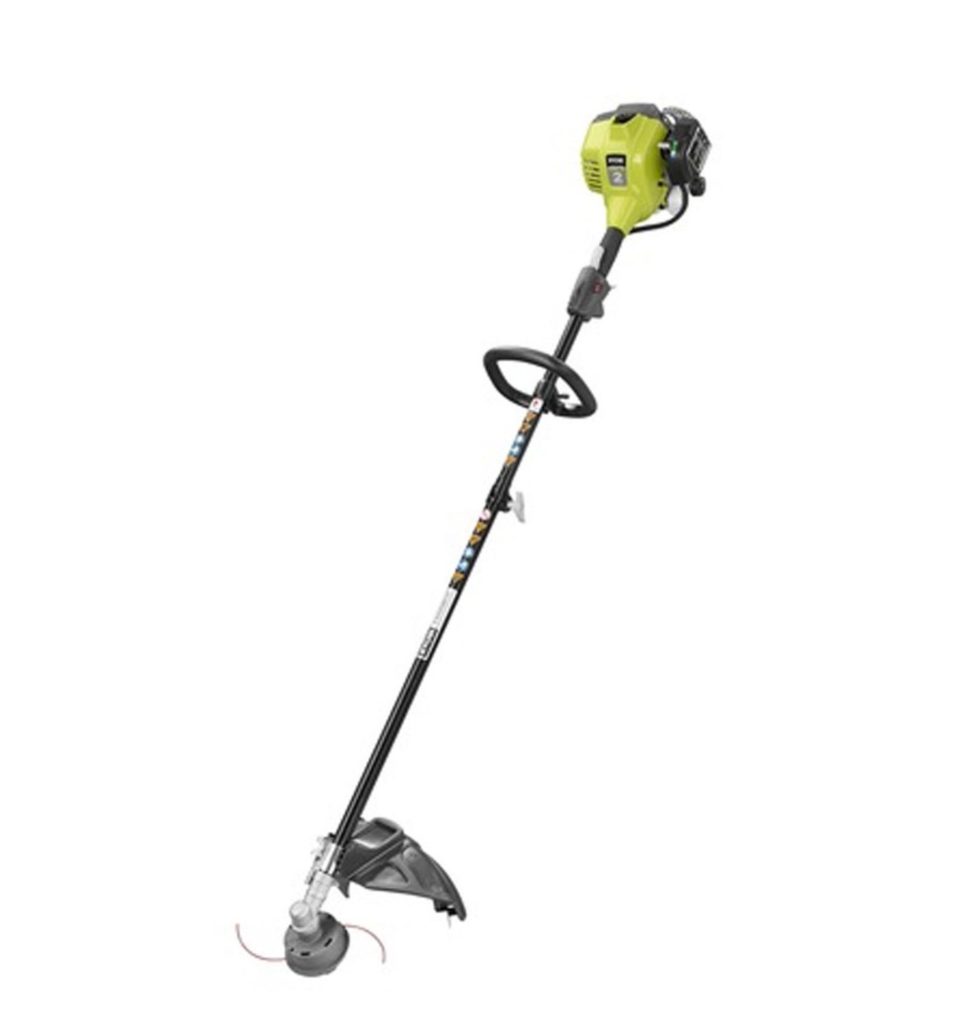 The Weed Eater Model W25SFK is an interesting entry into the mid range gas trimmer. (Check out our full tutorial on picking a weed eater) Trimming the lawn is necessary and as much as possible it should be done on a regular basis. For an efficient trimming, having a good weed eater is the main requirement. One of the reliable weed trimmers that are available today is the Weed Eater model w25SFK.
Design
The Weed Eater w25SFK is a gas trimmer that features a lightweight design. Weighing only 10 pounds, this weed eater is very light and portable enough to use around the yard. Coming with a straight shaft, fixed line trimmer head and 15-inch cutting width, one can feel an equal weight distribution from the handle to the cutting head. This weed trimmer has a plastic, D-loop handle that gives comfort and easy grip.
The noise of this weed trimmer is in moderate level and earmuffs are not really necessary unless you have very sensitive ears. This weed trimmer does not come with an exhaust and anti-vibration technology. Thus, you can really feel the vibration with performing the task. The vibration is in moderate level but, it is still not advisable to use this trimmer for large-sized yard because it may result to muscle fatigue. Also, this trimmer does not have a harness.
Performance
The Weed Eater w25SFK features the Simple 2 Start™ system. With a simple prime and pull, you can easily start the trimmer. This trimmer does not consume much fuel as well. It features a 15-inch cutting width that is strong enough to cut thick weeds and vegetation. It has a 25 feet line feed capacity which is considered to be impressive as compared to other trimmers available in the market today.
This weed trimmer also comes with an easy bump-and-feed mechanism to feed additional string to the trimmer. The fixed line cutting head is designed to allow easy loading of pre-cut trimmer line. Once the line runs out, rethreading is very easy. It is also designed to prevent line from getting tangled.
Warranty and Long-Term Care
Manufacture offers this weed eater with a two-year warranty for the labor and parts and two-year warranty on the drive shaft. The manufacture is also selling parts and accessories should you wish to have spare parts for future use. There are also several service centers throughout the U.S. where you can purchase parts and have the weed trimmer repaired.
There is also a user manual available online. You can refer to the manual online if you experience difficulties in handling the trimmer. The manufacturer can also be reached through telephone call and email.
Conclusion
This weed eater comes with several features. It is easy to start, lightweight enough to carry around the yard, and easy to assemble for convenient transport and storage. Though it lacks the anti-vibration technology and other features, this weed trimmer is still reliable to cut thick weeds. Yet, this trimmer might not be ideal for large-sized yards.
This weed eater is enough to eliminate ugly weeds and groom your lawns efficiently. Compared to other gas trimmer, this weed eater will not disappoint. It is easy to start and restart and absolutely easy to maneuver.
With that in mind, this is not in our top picks for the mid range gas weed eaters.